MULHERN CONSULTING ENGINEERS takes pride in the diversity of our completed projects. Designs have ranged from small mall stores,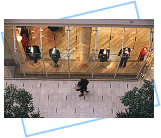 medium size educational facilities, up through large chiller plants and campus wide site lighting projects.
We look forward to working with you on any small, medium or large project present in your office.
Contact Mulhern Consulting Engineers for more information about our electrical engineering services and electrical power systems designs.
View a detailed list of projects
View a detailed list of our clients